'Child marriage' remains a rampant gross human rights violation across the world.    It is the highest degree of Sexual Gender Based Violence (SGBV) and a deterrent to gender equality as it limits girls from attaining education and realising their full potential.
A UNICEF (2015) report, estimated that 31% of girls in Zimbabwe are married before their 18th birthday. In Zimbabwe's Murewa and Shamva Districts, child marriage is a common practice; a report by ZIMSTAT (2015) revealed child marriage prevalence rates at 36% and 50% respectively.
The two districts have rampant cases of SGBV including child marriage and school dropouts due to teenage pregnancies, the cases have increased due to the COVID-19 pandemic. In a bid to curb these challenges Chief Mangwende of Murewa, Chief Nyamaropa and Chief Bushu of Shamva developed By-laws on ending child marriage with the technical support of Rozaria Memorial Trust.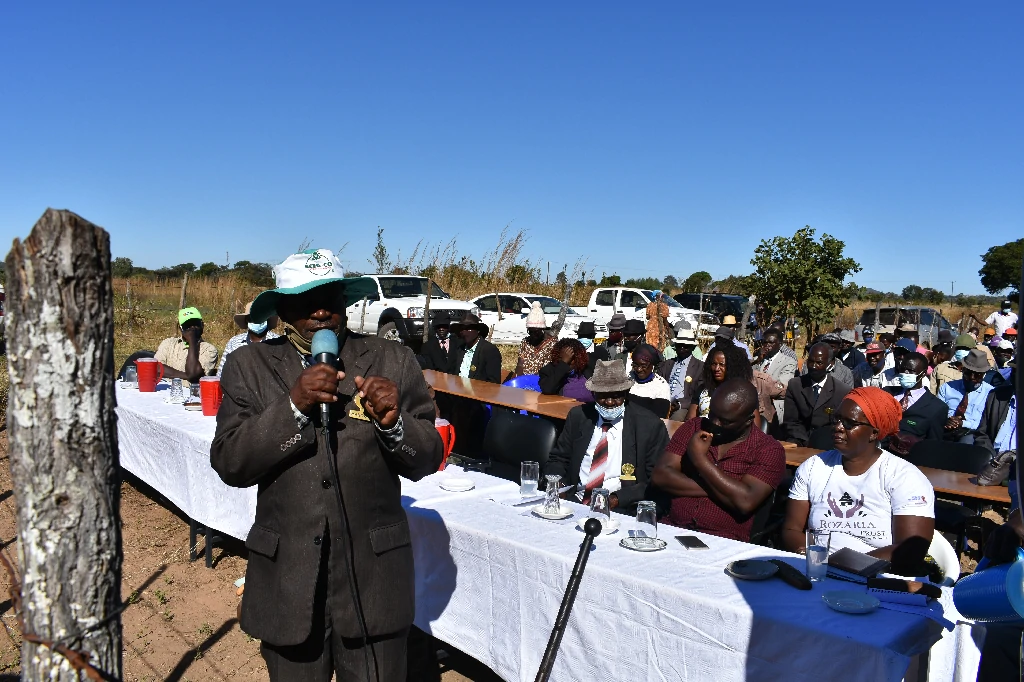 Whilst speaking on the processes of developing the By-laws for Murewa, the Chairperson of the By-laws Committee, Former Interim Chief Mangwende, and Tichafa Chibanda said section 4 of the By-laws makes a strong call to eliminate harmful cultural and religious practices.
"Mangwende Chiefdom has 5 traditional wards with each ward under a Headman/Muchinda. All key stakeholders in Murewa agreed that bad cultural practices like chiramu, chimutsa mapfiwa, incest, kurotswa, and virginity testing have to be banned because the practices violate children's rights and dignity. As we carried out consultations in the wards, majority of the girls shared their experiences of being taken to the river and having fingers inserted in their private parts to ensure the hymen is still intact", said Chibanda.
In Shamva, Chief Bushu and Chief Nyamaropa established the Special Court in the By-laws; the initiative has been lauded as a huge milestone in the enforcement of laws to end child marriages by the traditional leadership. Chief Bushu emphasized on the importance of intergenerational leadership and shared on the establishment of the Special Court.
"We have started to use the Special Courts where I specifically adjudicate cases of children live on camera. The child participates and has the right to ask for some people in court not to be present if she does not feel safe. The court has gender balance among its assessors who support me, and also includes a person with disability and two young persons. When we were carrying out consultations on bylaws in my Chiefdom, I realised our traditional culture does not give children the opportunity to speak up and give inputs on decisions even on issues that concern their upbringing and wellbeing. Therefore I had to ensure that the bylaws have a strong emphasis on access to education and intergenerational co-leadership", said Chief Bushu.
The initiative has received positive reception from residents in Murewa and Shamva including key government stakeholders from the Ministry of Local Governance and Public Works through the District Development Coordinators' Offices, the Ministry of Women Affairs, Community, Small and Medium Enterprises Development, the Department of Social Development including the local councils Murewa Rural District Council (MRDC) and Chaminuka Rural District Council.
The Assistant District Development Coordinator (DDC) for Murewa, Mr Charles Chiguvare welcomed the initiative spearheaded by Chief Mangwende as a timely initiative that will eliminate child marriages in Murewa District.
"The bylaws are going to make an impact as they complement the National Development Strategy 2021-2025 which is the road map to the national vision of our county of attaining an upper middle income economy and society. These bylaws contribute towards the national vision and also feed into the Sustainable Development Goals (SDGs) specifically SDG 1 which talks of eradicating poverty because poverty is actually one of the root causes of child marriage", said Chiguvare.
Section 7 of Chief Mangwende By-laws provides for a provision to reduce poverty and vulnerability for children through a concept coined "Tseketsa kumwanasikana" – it is symbolic of any economic asset given to every girl child who resides in Mangwende Chiefdom.
The Acting District Development Officer for the Ministry of Women Affairs, Community, Small and Medium Enterprises Development in Murewa, Mrs Abigail Nyoka applauded the Nhanga initiative and efforts made in the bylaws to reduce poverty.
"We are going to see a number of girls and young women starting their own businesses through the 'tseketsa kumwanasikana' initiative. We welcome the initiative as it will promote economic empowerment and ensure girls are self-reliant thereby reducing poverty. As a ministry we are most excited about the Nhanga as a safe space that will also enable girls to learn life skills and disclose issues that affect them especially Sexual and Reproductive Health challenges especially menstrual health related issues", Nyoka said.
According to the bylaws consultations report (2020) key causes of child marriage include poverty, cultural and religious beliefs necessitated by apostolic indigenous beliefs. As a result, the By-laws for Murewa and Shamva make a strong call for access to standard education and economic empowerment opportunities for every child who resides in the chiefdoms of the Chiefs.
Effective implementation of the bylaws and political will from state leaders are key drivers to ensure effective public participation of girls and young women in public life.